The following report was written by James Floyer for Avlanche Canada, be sure to follow here and always visit before heading into the mountains.
Rapid warming expected to increase avalanche danger this weekend and into next week.
We're about to enter a period of intense warming. What's more, this is the first real warm up of the season and we know from experience the first warm period following a series of storms usually has a dramatic effect on the snowpack.
This weekend and into the first half of next week, we expect to see an increase in avalanche activity in response to sunshine and high freezing levels.
Some slopes, especially south-facing slopes and slopes threatened by cornices have the potential to run big. Read on for more details.
What's up with the weather?
If you've been following the weather recently, you'll know that February and the first week of March have been cold. On average, recorded temperatures in British Columbia in February were a chilly 2.6°C below seasonal norms for this time of year.
This is about to change.
Warm air from the south is on its way, together with blue skies and plenty of sunshine.
Freezing levels over the weekend in the southern interior are expected to be up to 2,000 m and could get up  to around 2,500 m by Tuesday next week. It's enough to want to get the BBQ out and roast some weiners.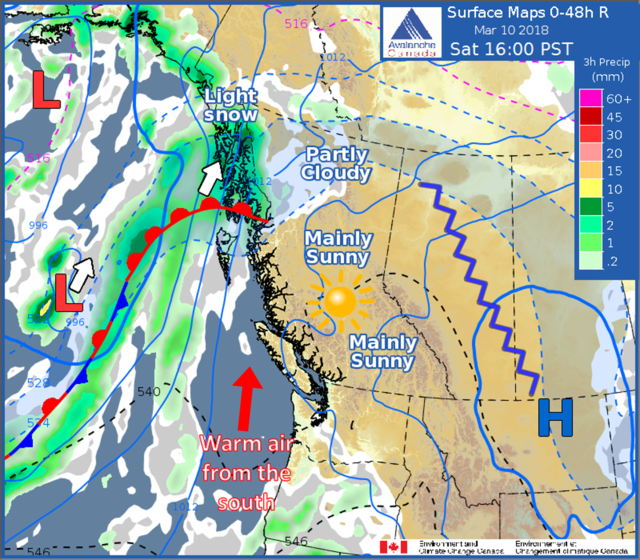 This weather chart shows warm air and sunny skies developing on Saturday.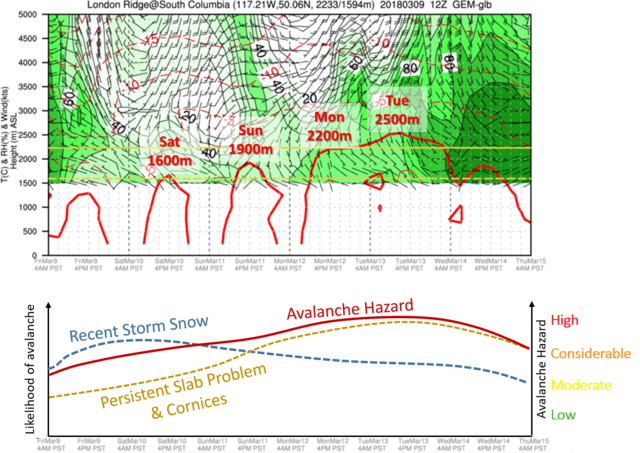 The upper image indicates freezing levels for London Ridge in the South Columbias will rise from around 1600 m on Saturday to around 2500 m next Tuesday. Most mountainous regions of BC are expected to follow a similar trend, although freezing levels in the northwest will be lower. The lower image shows the avalanche danger will initially be driven by recent storm snow that will destabilize rapidly as it is impacted by the sun. As the warming progresses, deeper persistent layers in the snowpack are more likely to be affected, as are cornices. Danger ratings shown on this chart are indicative, but not necessarily accurate. Please check the latest avalanche forecast for up-to-date information.
What impact will the weather have on the snowpack?
Steep slopes that face south are almost guaranteed to see loose snow avalanches, as the sun starts to break down the snow surface. The warmer things get, the bigger these avalanches can get.
While they do typically run slow, and are generally more predictable in nature, they can also be heavy and there is a potential for surface slide to trigger something deeper in the snowpack.
The question of whether deeper layers will be affected is very important. It can turn a seemingly small and not-particularly-dangerous-looking loose avalanche into a giant slab monster.
I suspect the likelihood of triggering these deeper layers will increase through this period in line with the freezing level. The risk of a cornice collapse will follow a similar trend. Cornices are a hazard in their own right, but also have a significant impact on the slope below, potentially triggering persistent weak layers within the snowpack.
What is the dumbest thing you could do in the mountains this weekend?
Have lunch below an avalanche path while your buddy hucks a cornice on the slope above.
What can I do to reduce the risk of getting caught in an avalanche?
Make a good trip plan. Choose a route that avoids or at least minimizes exposure to south-facing avalanche paths. Plan to ride on more sheltered north-facing slopes, being mindful of other hazards that may be present on these slopes (see local forecasts for details).
Stay away from cornices. Riding on or below slopes threatened by large cornices is asking for trouble.
Be careful where you group up. The best choices are on small hills, areas to the side of an avalanche path, or far, far back from runout zones well out of harm's way. It's easy to underestimate how far an avalanche can run, which is why being off to the side or on high terrain is usually a better choice.
Be wary of all slopes if overnight temperatures stay above zero. Currently this looks likely for Monday night into Tuesday. Of course, check the updated forecasts, but this will probably be a day to dial things way back.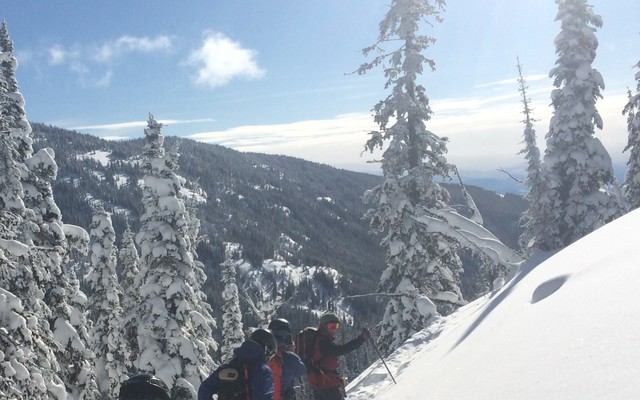 It might be best for this group to turn around and look for more shaded slopes through this warming period.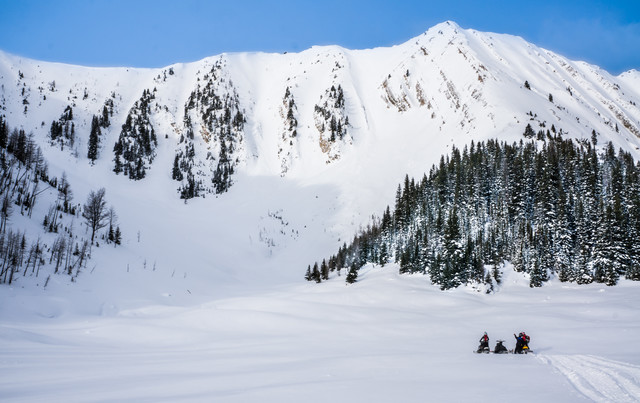 Selecting safe regroup spots is key. Here the group is quite far back and have some protection from the treed mound in the right of the photo. However, if the slope to the left of the image were to come into full sunshine, it may be a good idea to move even further back.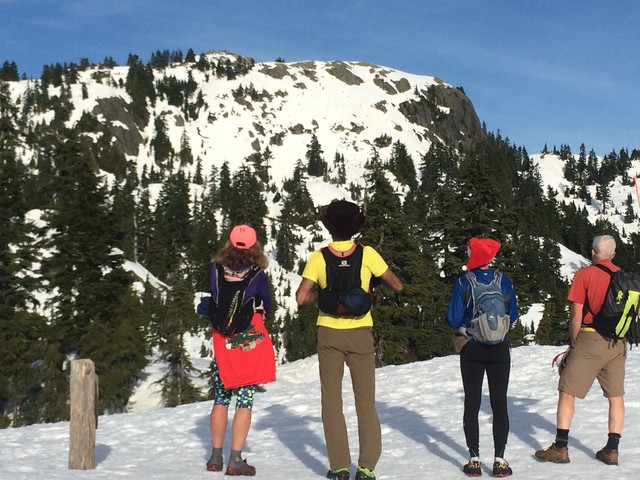 Spotting suspect slopes during warm weather… Are you properly prepared for the backcountry?